Contacts
Advokátní kancelář Vych & Partners, s.r.o.
Lazarská 11/6
120 00 Praha 2 - Nové Město
(Entrance into the building from the street Omladinářů)
Tel.: +420 222 517 466
E-mail: office@ak-vych.cz
Identification Number (IČ): 022 72 032
Tax Identification Number (DIČ): CZ02272032
Company registered in the Commercial Register administered by the Municipal Court in Prague, Section C, Entry 217533.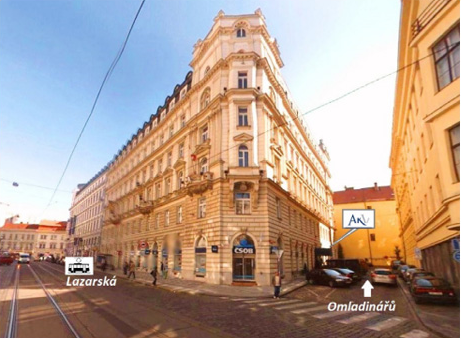 HOW TO FIND US
The entrance into the building is situated in the side street of Omladinářů (corner of CREDITAS, entrance through reception, by lift to the 6th floor).
Metro: 3 minute walk from "Národní třída" metro station (1 minute from the barrier free exit), 5 minutes walk from "Můstek" station, 5 minutes from "Karlovo náměstí" station.
Tram: We are seated right next to tram stop "Lazarská" (3, 6, 9 and 24) or 4 minutes walk from tram stops "Národní třída," "Karlovo náměstí" (9, 18, 24).